Books to Read with Children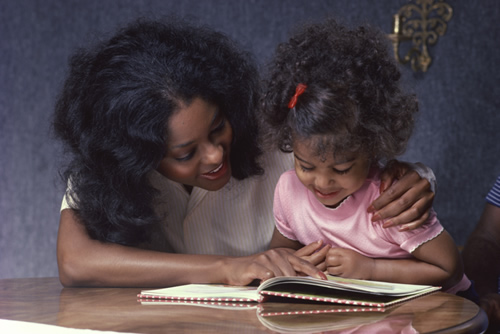 Countdown to Kindergarten

by Allison McGhee
The 10 days to the

start of kindergarten

are chronicled in a manner in which the fears and unknowns are candidly discussed. In the end, the principal character finds that she is very much in line with most of her school-starting peers.
Arnie and the New Kid

by Nancy Carlson
A boy in a wheelchair and

new

to town if bullied, eventually his tormentor becomes a friend.
I Don't Want to Talk About It

by Jeannie Franz Ransom
Divorce

is treated sensitively and thoroughly in this "reader-friendly" book for the very young student. Speaking to children as children and using animal images to depict the array of emotions that are present in children of divorce, this book treats a difficult situation effectively.
The Kissing Hand

by Audrey Penn
The story of a raccoon who expresses

separation anxiety

when its time to attend school. The sharing of "kissing hands" becomes the method used to address the uneasiness until comfort in school is established.



Mommy You're My Hero and Daddy You're My Hero

by Michelle Ferguson-Cohen
These two books address

deployment

from a child's perspective and talk about this separation in a simple manner to reassure and comfort small children. The books also suggest tips to maintain commucation and deal with feelings of helplessness.

Roses Are Pink, Your Feet Really Stink

by Diane de Groat
Faced with the dilemma of writing something nice on the valentines of two classmates he doesn't really like, the central character decides to prepare mean messages to each and sign them as coming from another. What happens afterward is a lesson in

suffering the consequences

of inappropriate behavior and how one can recover from such an act.
Stop Picking on Me

by Pat Thomas and Patty Lovell
Simple and direct language to help children accept the normal fears and worries that accompany

bullying

.
The Tenth Good Thing About Barney by Judith Viorst

This simple book was written to help children understand grief over the loss of a pet. "I was very sad. My mother said we could have a funeral for him, and I should think of ten good things about Barney so I could tell them..."

But the small boy who loved Barney can only think of nine. Later, while talking with his father, he discovers the tenth -- and begins to understand.
The Tower: A Story of Humility

by Paul Evans
A young boy who seeks greatness and recognition finds out how lonely one can feel when those goals are achieved. This book speaks to matters such as

sharing, vanity and humility

.
Wemberly Worried

by Kevin Henkes
Like many children, Wemberly

worries

about many things: some large like the

first day of school

and others very trivial. This mouse character shows comfort can be achieved, no matter how worried or different they may be.
Oliver Button is a Sissy

by Tomie dePaola
A boy is

teased

because he likes to dance. Despite being teased he continues to do what he loves.

Amelia's Bully Survival Guide

by Marissa Moss
As if science class isn't enough to deal with - now Amelia has to deal with

bullying

behavior.
Amelia Takes Command

by Marissa Moss
Now Amelia is in fifth grade and being

ostracized.
Mr. Lincoln's Way

by Patricia Polacco
A student racially bullies others but is eventually helped by his principal.
The Hundred Dresses

by Eleanor Estes
This classic deals with

prejudice

and understanding. The book examines the role of the silent bystander in cruel teasing.
Joshua T. Bates Takes Charge

by Susan Shreve
Boy struggles whether or not he should

report bullying

behavior.
Shredderman

by Wendelin Van Draanen
A smart (

nerd

) young boy who is bullied fights back through an online comic that details the mean things Bubba is doing to others.
Books are being added throughout the school year so please check back or call if you would like a recommendation on a specific topic.
Dr. Leonard Sax has published 3 very informative books on gender differences.
Why Gender Matters: What parents and teachers need to know about the emerging science of sex differences was published in hardcover by Doubleday (2005) and in an expanded softcover edition by Random House (2006).
Sax, L. (2007). Boys Adrift: The five factors driving the growing epidemic of unmotivated boys (an expanded softcover edition was published in 2009)
Boys Adrift discusses five factors:
1. Changes in education over the past three decades. Today, kindergarten is first and foremost about teaching literacy and learning basic arithmetic. In 2007, the kindergarten curriculum at most American schools, both public and private, looks very much like the first-grade curriculum of 1977. Nowadays, it's all about learning to read and write.
2. Video games. Recent scholarly work demonstrates clearly that some of the most popular video games are distracting boys from real-world pursuits.
3. Medications for ADHD. Medications such as Adderall, Ritalin, Concerta, and Metadate, which are overprescribed, may be causing irreversible damage to the motivational centers of boys' brains.
4. Endocrine disruptors. Environmental estrogens from plastic bottles and other sources may be throwing boys' endocrine systems out of whack.
5. Devaluation of masculinity. Shifts in popular culture have transformed the role models of manhood. Forty years ago, we had Father Knows Best; today we have The Simpsons.
Girls on the edge:

The four factors driving the new crisis for girls
was published by Basic Books in 2010; an extensively-revised, updated softcover edition was published in 2011.
1. Sexual identity. The chapter consisted a lot of what I expected; the over-sexualization of young girls and that the sexual empowerment movement has led many girls to be disempowered. If girls aren't given the proper direction, their sexual identity will look to be fulfilled in ways that will leave them dissatisfied, emotional wrecks. The world tells them to be sexual; that it's the only way they'll be accepted. You as the parent must notice this and protect your daughter.
2. Cyberbubble. In this chapter he discusses how social networking (ie facebook, etc) and the cell phone have driven girls into their own unfulfilling worlds where they look for something and get a lot but find nothing of substance.
3. Obsessions. We expect a lot of our girls and they work extremely hard at numerous activities. Because of the changes in our world these last fifty years our girls have been given the green light to succeed with the talents they have been given and this is tremendous news. However, many go so far as to risk injury and well-being. How good is good enough? Some girls and their parents don't know so they never quit. Sax discusses the dangerousness of this and presents real world examples that could save your daughter's life.
4. Environmental toxins. Sax asks and answers questions that may still leave you wondering, but his facts make sense. Whatever you believe after reading about the dangerous chemicals in your daughters lotion, something is going on when girls are hitting puberty at age 8. Also, can a man cause his daughter's puberty to delay until a more appropriate time? According to Sax it is likely.
Reading these 3 books by Sax will cause all parents to wonder on a level beyond sports and school just what they are doing for their sons and daughters growth and development.
Little Girls Can Be Mean
by M. Anthony & R. Lindert
This book gives staff and parents a four-step plan to handle social cruelty.
How to Talk So Kids Will Listen and Listen So Kids Will Talk
(2012 Thirtieth Anniversary Edition) is an excellent communication tool kit based on a series of workshops developed by Adele Faber and Elaine Mazlish. Faber and Mazlish (coauthors of
Siblings Without Rivalry
) provide a step-by-step approach to improving relationships in
your
house. The "Reminder" pages, helpful cartoon illustrations, and excellent exercises will improve your ability as a parent to talk and problem-solve with your children. The book can be used alone or in parenting groups, and the solid tools provided are appropriate for kids of all ages.
The Bully, the Bullied, and the Bystander
by Barbara Coloroso
This book discusses how parents and teachers from preschool to high school can help break the cycle of violence. It offers parents over 100 practical strategies about how to cope with bullying.
Schools Where Everyone Belongs

by Stan Davis
This books discusses bullying and its effects. It presents techniques and structures that improve school safety and climate. It addresses schoolwide educational interventions and other methods for empowering bystanders to act against bullying.
Easing the Teasing: Helping Your Child Cope with Name-Calling, Ridicule, and Verbal Bullying

by Judy S. Freedman
This book talks about the roots of teasing and why some children engage in this behavior. It offers suggestions on how to talk to your child to find out why he or she is being teased. The book reviews ten coping strategies a parent can teach a child about how to handle teasing.
Emotionally Healthy Twins
by Joan A. Friedman
A new parenting twins philosophy outlining the seven simple concepts to raising emotionally healthy individuals even while encouraging them to cherish their special sibling relationship.
Most parents try to treat their twins as individuals, but most unwittingly undermine their best intentions because they lack a practical set of guidelines for raising emotionally healthy multiples.
Drawing on her unique experience as a twin, the mother of twins, and as a psychotherapist, Dr. Joan A. Friedman outlines the seven key concepts for helping twins develop into self-realized, unique individuals and offers parents specific strategies for each stage in their children's growth. From how to set up the nursery to handling playmates and extracurricular activities, from deciding on same or separate classroom education to encouraging grandparents and other family members to think beyond the pair to see individuals,

Emotionally Healthy Twins

will become the standard reference for parenting twins.
It Takes a Parent

by Betsy Hart
Hart presents a smart, passionate, and provocative argument for why parents should lead rather than follow their children. She explains why parents should actually limit the choices open to their children, make no excuses for their inappropriate behavior, and stop turning therapeutic establishment solutions to every problem they have with their children. Hart offers an insightful, common sense guide to the forgotten role and responsibilities of parents -- so that they can once again help their children grow up to be responsible adults themselves.
Kids, Parents, and Power Struggles

by Mary Sheedy Kurcinka
Kurcinka helps parents unravel the mysteries of power struggles by offering insights into individual differences and normal patterns, recognizing that every child is unique and every discipline situation is different. Kurcinka views power struggles as an opportunity to teach your child essential life skills, such as how to calm oneself, to be assertive, to solve problems and to work cooperatively with you and others.
Bully-proofing Children

by Joanne Scaglione & Arrica Rose Scaglione
This book gives an overview of the bullying problem. It explaines the nuances of the problems by describing the players and participants and how to spot signs of bullying. It describes ways to mobilize entire schools and develop effective programs and policies. Finally, it addresses bullying prevention.
The Optimistic Child: A Proven Program to Safeguard Children Against Depression and Build Lifelong Resilience

by Martin Seligman
The 2007 edition of this highly acclaimed book is based on research about the benefits of optimism and how to foster it in children. Studies clearly demonstrate that optimism can be taught. Whether you want to learn to apply optimism to your own life or teach your child optimism, I recommend you read Seligman's book. The book explains Seligman's positive psychology in a straight forward manner that gives parents and teachers strategies to prevent depression in children. Positive temperament is a proven protective factor that makes youth less susceptible to substance abuse. Seligman hopes to reduce depression in today's world and this book outlines his suggestions.
Mom, They're Teasing Me

by Lawrence J. Cohen
This book deals in-depth with specific aspects of social cruelty: the four major types of children at risk for social isolation and their unique problems; the ordinary pain of those children not at risk but cause their parents concern; and bad class dynamics in the school and neighborhood.
Buzzed: The Straight Facts About the Most Used and Abused Drugs from Alcohol to Ecstasy 3rd edition (2008)
By Cynthia Kuhn, Scott Swartzwelder, Wilkie Wilson, Leigh Heather Wilson, Jeremy Foster
Neither a "Just Say No" treatise nor a "How to" manual, Buzzed is based on the conviction that people make better decisions with accurate information at hand.
Saying No is Not Enough: Raising Children Who Make Wise Decisions about Drugs and Alcohol By Robert Schwebel
This book shows how you can be persistent, even penetrating, while remaining friendly and supportive. Schwebel is not offering theories, he is making detailed, practical suggestions that he himself has worked out and tested many times over. They have proved their effectiveness.